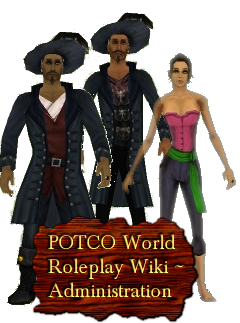 The POTCO World Roleplay Wiki Administration is tasked with protecting the wiki, as well as keeping it both properly and actively contributed to. The Administration consists of (From most to least powerful) two bureaucrats, one administrator, one chat moderator, and two rollbacks. Users with any of the following positions are also allowed to partake in major votes on The World Stage. Members of the PWRW Administration must be promoted first by a majority vote in The World Assembly, and then by a 2/3rd majority vote via administrative community blog. In order for a member of the administration to be demoted, they must undergo the same process. To become a member of the administration, you must have at least 50 edits on our wiki, and have been here for at least 3 months. Users with a history of rule breaking violations will automatically be denied the chance to become a member of the administration. For more information about our administration and how it operates, please read the following topics below.
Administrator/Bureaucrat abilities
These additional functions include:
Deleting and undeleting pages, page histories, and uploaded files.
Locking (protecting) a page so it cannot be edited or renamed by users without admin rights or autoconfirmed status.
Blocking IP addresses or user names from editing; and very quick "rollback" of undesirable edits.
Editing the interface by changing system messages and skins.
Chat Moderator/Rollback abilities
These additional functions include:
Banning users from chat.
Unbanning users from chat.
Kicking users from chat.
Giving users strikes in chat.
Rolling back edits, and/or vandalism attacks (Rollback only)
Who are this wiki's administrators?
| | | | |
| --- | --- | --- | --- |
| Name | Powers | Activity | Current Time (Local) |
| | Bureaucrat, Sysop | Very Active  | N/A |
| Lord Hector Wildhayes | Bureaucrat, Sysop | Very Active | N/A |
| Ze Assassin | Sysop | Active | N/A |
| Isabella V Clemente | Chat Moderator, Rollback | Active | N/A |
| JackDarksteel | Rollback | Very Active | N/A |
What can administrators not do?
Administrators should not use their administrator powers to settle editing disputes; for example, to lock a page on a version he or she prefers in an editing dispute that isn't vandalism. Administrator powers should be used to help keep the wiki clear of vandalism, spam, and users who make malicious edits, but not for simple disagreements between users acting in good faith. Ideally an admin shouldn't be considered "in charge". The ideal admin is just someone who is trusted to have a few extra buttons and to use them for the benefit of the Wikia community.
Staff
Wikia staff members have full access to all Wikia. They will be shown in Special:Listusers/staff on any wiki. Please use Special:Contact to contact Wikia staff.
Ad blocker interference detected!
Wikia is a free-to-use site that makes money from advertising. We have a modified experience for viewers using ad blockers

Wikia is not accessible if you've made further modifications. Remove the custom ad blocker rule(s) and the page will load as expected.