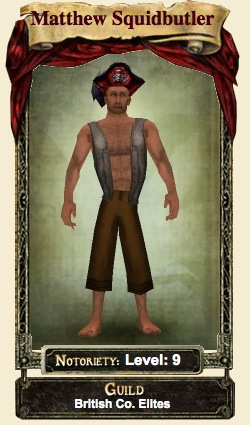 Reuben Czarnecki is a member of The East India Trading Company in England.
Biography
Edit
Reuben Isaac Czarnecki was born on July 16, 1702, in Leeds, England, to Jedrus Bohdan Czarnecki and Rebecca Pamela Sutherland Czarnecki. Reuben's father was Polish and his mother English. They were a very poor family until Reuben was drafted into the military when he was 19, around the time his father was viciously murdered. At age 28, he joined The East India Trading Company, meeting Johnathan Goldtimbers and many others. When Reuben was 37, he entered The Paradoxian War, and was taken hostage along with a couple of other soldiers in 1743. He was eventually let go after Carlos La Verde Sanita was executed. He still serves in The East India Trading Company.
General Information
Edit
Guild - British Co. Elites
Pirate - Matthew Squidbutler
Level - 9
Blake Stewart
John Breasly
Johny Goldtimbers
Ad blocker interference detected!
Wikia is a free-to-use site that makes money from advertising. We have a modified experience for viewers using ad blockers

Wikia is not accessible if you've made further modifications. Remove the custom ad blocker rule(s) and the page will load as expected.