So I said, I would be creating a server for everyone on POTCO to move to. Originally, as always... I started with the intent to make one operator/admin from each nation, (Britain included). I tried to use this approach on the wiki, but as you all know... that didn't work due to all the vandalism and profanity. Well... just the other day, all the British came to our server and attempted - (failed drastically) for about an hour to vandalize everything by putting up profane symbols, I.E. - swastikas, knocking torches off roads, and destroying NPC towns and villages. 
So... once again, unfortunately, due to Britain's immaturity and lack of frontal lobe development, I regret to say that there will once again, be no admin/op for Britain. On that note, I would however like to thank "Johnny Goldtimbers" for his assistance in creating the initial structures on the server. 
Anyways, here's an image for you to gaze at. I can't give away the location of this room, and it's not the only room on the server. Although there are few structures on the server, we are currently in the process of building a massive mansion.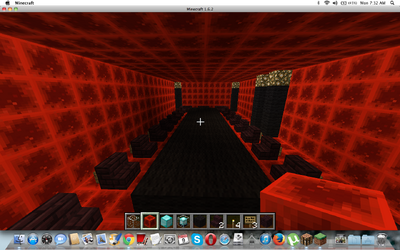 Ad blocker interference detected!
Wikia is a free-to-use site that makes money from advertising. We have a modified experience for viewers using ad blockers

Wikia is not accessible if you've made further modifications. Remove the custom ad blocker rule(s) and the page will load as expected.